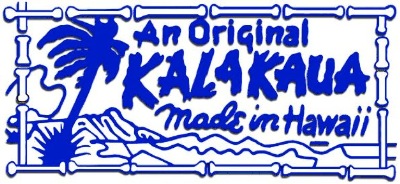 Boat Days at Honolulu Harbor
Five days after crossing the Pacific Ocean on board the S.S. Lurline, the great ship berths at pier 11,Aloha Tower. You've arrived at your port of destination, Honolulu, Territory of Hawaii. The shimmering crystal clear waters, the deepblue skies, the cooling trade wind breeze, the sweet fragrance of floral lei,the mesmerizing motion of the hula dancers that greet you and the romanticukulele and guitar Hawaiian music is pleasantly stimulating your senses. You see the colorful and bright attire theHawaiians, Kamaaina, and Malihini wear and you wish to become one with theislands, to share the Aloha. "An Original Kalakaua" Hawaiian wear, est. 1937 is made to give you that experienceof the days of old Hawaii. Please enjoy this garment as you enjoy thebeauty of Hawaii. After you have bid us Aloha Oe and havesailed away, your "Original Kalakaua" garment will preserve forever yourmemories of this Island Paradise, Hawaii. Mahalo and Aloha.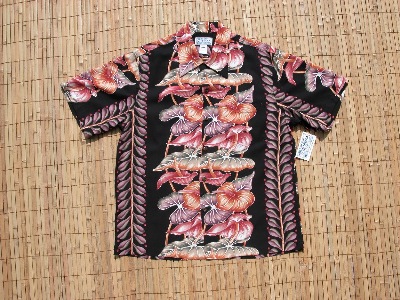 ANTHURIUM PANEL, original printing 1936. Available in a 100% Rayon Poplin fabrication. LARGER IMAGE Faithfully reproduced by an original 1936 shirt loaned by Baileys Antiques and Aloha Shirts

The Hawaiian aloha shirts from the 1930's – 1950's have become highly collectible, being correctly perceived by many as an indigenous form of art unique to America and the islands of Hawaii. With the great influx of U. S. service personnel in Hawaii headed to Pacific battlefields during the Second World War, interest in the Hawaiian shirt boomed as every sailor, marine or GI perceived these shirts as a catalyst for the good times associated with a weekend pass or liberty. After the war, the Hawaiian shirt continued to gain popularity from the exposure it received with returning servicemen, Major clothing manufacturers began producing Hawaiian-styled shirts in the late 1940's and early 1950's. Presidents Harry Truman and Dwight Eisenhower were forever seen sporting these shirts during relaxing moments at ball games, on vacation or while on golf outings. Hollywood icons and entertainers, such as: Elvis Presley, Arthur Godfrey, Bing Crosby, Lee Marvin and, of course, John Wayne, were also quick to identify with these styles. But it was From Here to Eternity, the magnificent 1954 academy award-winning film about pre-war army life at Schofield Barracks and nearby Pearl Harbor, that flung the Hawaiian shirt to the forefront of popularity. This film hosts a feast of magnificent vintage Hawaiian shirts, most of which are prominently worn by lead actors Montgomery Clift, Frank Sinatra and Ernest Borgnine. Unfortunately, the great demand for the shirts in the late 1950's spawned mass production of the polyester shirts of the 1960's, thus went the unique beauty, designs, style and quality of the original shirts from the first 30 years, hence the great scarcity, collectibility and demand for these vintage shirts today.


We are proud to present the finest, most authentic vintage reproduction, retro style Hawaiian shirts available in the world. The esteemed "An Original Kalakaua, Made in Hawaii", originally established in 1937. These are vintage designs from the heyday of Hawaiian shirts (1930's - 1950's) reproduced true to their original and brilliant colors and charm. The imported fabrics are custom made 100% rayon, cotton/rayon blends, and 100% cottons. Processes for silk screening of the ornate patterns have been duplicated with care. Buttons are handcrafted, cut, drilled and polished coconut. The fit and shape of the shirt is uncompromisingly just like the originals, not updated for today's fashion look.

Each vintage cut shirt features double needle stitching, an expertly matched pocket, top loop and button and an extra button stitched into the inside front facing. . Remember, Hawaiian shirts really can only be made in Hawaii. All others claiming to be Hawaiian but made offshore are merely imitations. Don't wear anything but the best, you deserve no less. Aloha!

To see the full collection of "An Original Kalakaua, Made in Hawaii Shirts please visit the Kalakaua General Store.

There are loads of unnecessary and overpriced grooming products women are somehow convinced they need
rolexreplica. Manufacturers use trigger words like "anti-aging" and "organic" -- or just "Dior" or "Gucci" often does the trick. Taylor Hill/Getty Images Entertainment/Getty Images "You think my neck stays this young au naturel?" These are items that no one but the owner ever even sees. A woman can wear a rolexreplica purse in public and at best maybe a few women will notice and secretly hate that she could afford it and envy her. But no one notices how much money you spent on an overpriced, designer, organic, made-with-18-karat-gold soap or lotion. The same goes for perfume. Sure, smelling nice is . nice. But a simple scented body spray should suffice. Does anyone really notice you spent 80 hublotreplica on a urine-sample-sized bottle of Charlize Theron covering herself in gold?Then again, maybe guys are fantasizing about Charlize pee these days. Like I said,it's not exactly my area of expertise. I don't think women buy expensive perfume to attract men. I suspect they do this because they feel gratified that they could afford to spend money on something so mundane and unnecessary. Because women know that no guy is ever saying, "Eh, her face and personality are OK, I guess . but HOLY SHIT she smells so amazing cartierreplica just have to fall in love with her!"